Let me take you down a country lane to an old stone and stucco farm house surrounded by 150 acres or so of fields, barns and outbuildings, tractors and other farming implements, a huge area where they raise trout, rolls of golden hay out back, milk cows, horses pasturing on the other side of the railroad tracks, pigs in the pen and 3 cats put in a huge cage for the occasion.  Let me take you down to a green, sweet-smelling field where arriving cars are bumpily bumping over rows of alfalfa and the intervening ruts to park.
The occasion is the wedding of our cousins' lovely daughter to a hard-working young man who's making a living as a coal miner in the hills 15 miles away. The grounds around the house have never looked better—the engaged couple having landscaped since February, putting in more than a dozen flower gardens, water treatments and stone patios surrounding her childhood home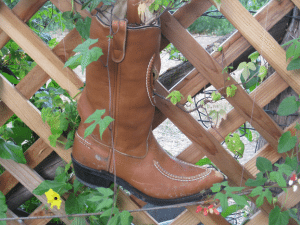 The wedding will begin in about a half hour. A team of family and friends have decorated fences with old boots, some filled with flowering plants, they've adorned the gates and trellises with white lacey material and wild flowers, situated 150 chairs in a horseshoe shape in the lush green lawn in back of the house that looks out over a new stone patio and a flowered trellis where the bride and groom will stand to make their vows. And all the guests will view this wedding with sunflowers, green fields and surrounding blue mountains as part of their vista.
The weather is mild: a balmy 82 degrees, blue sky, and an occasional white cloud at 5:30 PM. A strong breeze stirs the leafy parts of the tall weeping willows and red maples to an exciting dance.  They've tented a large part of the front yard, the beer kegs situated in a cattle trough, there's a table with flowing fountains of marguerites and daiquiris and ice chests of waters and soft drinks.  The DJ is playing a variety of romantic songs.  People greet each other in a relaxed way (no pretences here) just down-to-earth family and friends from near and far gathering on a Saturday night to celebrate the beautiful beginning of two young people uniting their families for life.




Little girls in fancy dresses and little boys in tuxedos are coached for their jobs as flower girls, their mini escorts and a nearly three-year-old ring bearer.  The aisle has been marked with poles and lacey garlands and first to drift in are the bridesmaids on the arms of the groomsmen followed by the little ones evoking laughter and sighs.
The bride evokes tears—she is luminous.


Her father, who'd survive a horrific run-in with a bull only 8 months earlier, has totally healed and glows with pride and happiness.
The bride's mother—the other rock of her foundation—stands to watch her husband bring their daughter down the aisle. Country living and farm work is restorative, but creating beauty and foundational support for one's children might be the best tonic of all.
The wedding ceremony is like a sweet nursery rhyme, short and simple…



And then the festivities begin—from barbeque buffet, to dancing well after dark, the DJ plays everything from Dean Martin to country to Beatles to hard rock, topped off by "The Chicken Dance" participated in by the whole family!
The unifying factor in all weddings is that of family love and loyalty. There are times when, despite disappointments, disillusions or despair some family members might have suffered  in life, they come together in celebration and hope and the renewed decision that the stories of family will come out right.  With music, beauty, giving and food, we come together to say yes!
Can I take you down to the dance floor for one last look?  The little children (either in the arms of parents or scampering around) dance to the music, way past their bedtimes.
The tired but happy grownups have talked themselves out and rest at the tables.  Some of the guests have found their way with flashlights to their cars; bump out of the field and onto the dirt and gravel road to make their way to home or hotel.
Take a peek at the young ones dancing there, making us smile.  Take a look at the effort everyone made to be here, to once again attest, whether in New York, California or the farmlands of the great Midwest that life and family is worth creating.
I hold the hand of the bride's grandmother.  She's farmed nearby all her life and nearing aged ninety looks at her granddaughter who's laughing with her new husband and a tight circle of friends.  The lovely lady grins like a girl and we swing our clasped hands to the music.
There's a whole lot of hugging goodnight going on. The parents of the newlyweds have that peaceful expression that comes with months of work to create a most special time for their children.  They will sleep well tonight.
It's getting late, but tomorrow is going to be a bright new day and I've been promised that in the morning I get to hose down the hogs and ride the four-wheeler to water some calves.
Can't you just smell the dew on the alfalfa as crickets serenade us to the car—one of the last vehicles left in the field? We slowly move out into the road and roll down our windows to breathe deep of this clean country air and to hear the laughter and music as long as possible as we drive down the lane.
The next day…